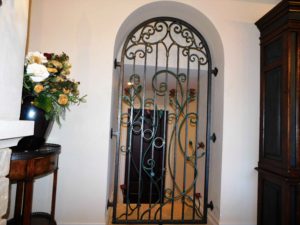 Did you know that adding a wrought iron entry door to your home is one of the top five improvements that add value to your property? Not only is an iron entry door a beautiful addition to your home's curb appeal, it also adds a valuable layer of security.
Security Features of Iron Doors
Whether its highly decorative or purely functional, a wrought iron entry door prevents burglars from gaining access to your home. We often incorporate wrought iron into glass doors to prevent burglars from simply shattering the glass to gain entry.
Artistic Ornamental Iron fabricates iron entry doors with security in mind. We use high-quality materials made in the United States, including 14-gauge steel and solid ½-inch, hand-forged steel scrolls. During installation, we use durable, secure hardware and sturdy locks.
Iron Doors Add Style and Sophistication
Take a look through our gallery of iron doors, and you'll notice many of our iron doors are installed on older homes. Iron doors used to be a feature of many homes, and we enjoy bringing this style back to older structures. Wrought iron is an especially handsome choice for homes with brick, stone, or stucco exteriors.
The design of your iron door is only limited to your imagination. While we often incorporate glass or wooden elements into our entry doors, wrought iron is sturdy and beautiful enough to stand on its own, too. Together, we can create a design that complements your home's Tudor style, Tuscan feel, or modern flair.
Consider Using Iron Doors to Protect Interior Rooms, Too
Iron doors make a great addition to interior of your home, too. Use an iron door to lock up the collection of wine in your wine cellar. Or, install a door to separate one area of your home from another without sacrificing light, air flow, and sightlines. Wrought iron half doors can keep pets—and kids!—safely in place or prevent them from going upstairs or downstairs.
Check out our gallery for inspiration for your iron door or other wrought iron project. The craftsmen at Artistic Ornamental Iron look forward to dreaming and designing with you. Contact us today to get started on your next project.