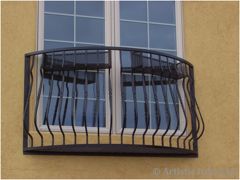 Artistic Ornamental Iron received a call from an Orono dog owner recently who was thinking of getting some window guards. The dog owner had just adopted a rather rambunctious beagle. The beagle loved the outdoors about as much as he loved to jump up on things. The customer was worried that while he was away from the home the beagle would try to jump out the main hallway window, and that really worried him. The customer was wanting something to help keep their dog from jumping out the window, but he didn't want it to look chintzy or stupid. He contacted the company he had heard would produce the best window guards Orono had to offer, which was Artistic Ornamental Iron.
As professionals we here at Artistic Ornamental Iron set up an appointment with the customer, so we could get a good look at the window that he was concerned about. We arrived, and looked over the main hallway window, and offered a window guard that was safe and secure, but most importantly we would not provide a window guard that was cheap, chintzy, or take away from the natural beauty of the home. The customer was pleased with the options that we offered, and selected his window guard. One of our technicians installed it, and we provided the customer with a beautiful, handcrafted solution to a simple domestic problem. The customer was impressed with our window guard, and he can leave the house and know his precious new beagle would be safe and would be unable jump out of the secure window thanks to Artistic Ornamental Iron. We provide homeowners with professional window guards in Orono.
Please give us a call at 763-370-2279 or send a request for quote.