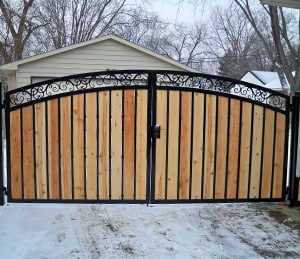 We were scheduled to service a customer in Minnetonka for a new iron fence. We scheduled the first meeting with the customer to go over the fencing options, then measured the area where it would go. We got the measurements, along with the design that he wanted and our crew went to work. We started the handcrafting, and fully welded the iron until the metal was smooth and ready for the small, delicate grind. After this, we applied an acid wash to remove any debris. Then, we added our special compound zinc, which will keep the iron from rusting. The finishing touch is our three coats of paint. No other company goes through extensive steps like we do. We scheduled the installation of the iron fence with the homeowner, and the team arrived on time.
We called the customer the following morning to see how he liked the newly created and installed iron fencing, and he said, "The fence looks outstanding. I am impressed by the difference it has made to my property!"
Artistic Ornamental Iron would like to thank you for trusting us with your home and choosing us for your iron fencing. The team at Artistic Ornamental Iron work hard to provide excellent services. We have been dedicated in serving Minnetonka residents for over twenty years. We would like to invite you to call us again for all of your ornamental iron services, as we specialize in: iron gates, iron railings, iron doors, and iron balusters.
For more information on Minnetonka's leader in ornamental iron, click here!