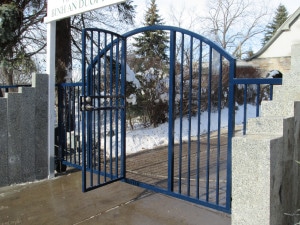 Artistic Ornamental Iron was scheduled to give service to a customer in Maple Grove. The customer met with us to create a gate for his driveway entrance. We went out to the home to get the exact measurements and helped him design his ideal style. Once we had the iron gate created, we called the customer, so he could arrange to have it picked up from the installers. He called us a week later to let us know that his iron gate was installed, and it looked great. He said that he was very impressed with the scrolls and curves that were added and that it looked beautiful.
We asked him how he heard about our company, and he said he did a search on Google. He went through our photo gallery, then read our customer reviews, and knew he wanted us to create a one-of-a-kind gate for him. Artistic Ornamental Iron learned that the customer went back online and left this review, "The Artistic Ornamental Iron  crew did an excellent job making my gate. The unique detail is wonderful. The employees were very professional and the gate was done in a fashionable time frame. An excellent job well done."
Artistic Ornamental Iron would like to thank you for trusting us with your gate. We would like to inform you on our other iron products, which include: iron doors, fences, balusters and railings.