Getting a bit of the winter blahs? Artistic Ornamental Iron believes there's no better cure for cabin fever than planning your spring and summer landscaping projects. What are your hopes and dreams for your property this year?
If you're looking for some inspiration for your 2019 landscaping projects, we've got you covered. Here's a look at some of our favorite projects featuring our ornamental wrought iron. Want to see more? Follow us on Facebook!
Enhancing an Already Beautiful Property
What do you do to improve a property that's already bursting with curb appeal? Install ornate wrought iron railings with a custom finish, of course! We had the opportunity to add the finishing touch to a customer's home last July. The railings tie into the home's architecture perfectly while safely leading guests up the front steps or to a secluded backyard patio.
Improving Privacy, Safety, and Beauty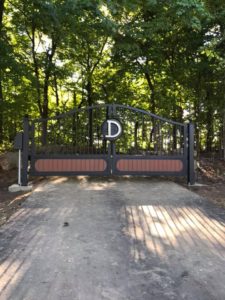 We had the chance to install this beautiful, custom wrought iron driveway gate last September before the cooler weather set in. It took just a few days to fabricate and install the gate. The solid bottom of the gate adds privacy while its solid construction and automated lock mechanism protects our customer's property from unknown visitors. We loved our customer's idea for the monogrammed medallion in the center, too!
Revealing Lake Views from a Favorite Deck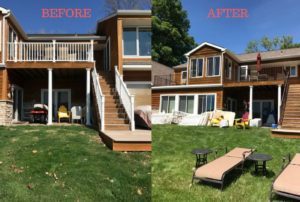 Builder-grade balusters can ruin the view even when they're attached to a home designed to take full advantage of the lakefront. We had the privilege of helping a customer keep their deck guests safe while making it easier to enjoy the lake views. Our custom wrought iron balusters improve the look of their home without obstructing the lake.
Adding Beauty without Breaking the Bank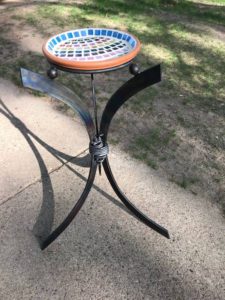 We often work on large-scale projects, but some of our favorites are small, affordable jobs that add beauty to a garden or front stoop. Here's a bird bath we created for a nature-loving customer's garden. A custom wrought iron stand supports a colorful terracotta and tile basin.
Updating a Tudor Home's Stoop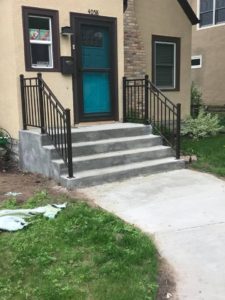 We love any opportunity to incorporate modern design into the architecture of an older home. These prairie style wrought iron exterior railings tie in nicely with the stucco exterior of our customer's urban abode. The custom finish on the railings match the dark trim of the home, while the teal door adds a pop of color.
Dreaming of the day when you can break ground on your 2019 landscaping projects? We'd love the opportunity to dream with you! Contact us today to get started on your wrought iron project.