March weather has many Minnesotans dreaming of the warmth of the summer sun. If you're like us, you love to make the most of summer. But sometimes, homeowners find their yards lack the spaces and design elements that make spending time outdoors enjoyable. Some homeowners see this as an opportunity for DIY landscaping. But for others, the idea of spending precious weekend time digging garden beds sounds worse than six more weeks of winter.
If you'd love to improve the curb appeal, function, and beauty of your property without spending hours gardening or mowing the lawn, we have a few ideas for you. You can be as hands-on or hands-off in the design as you'd like. Either way, you can leave the dirty work up to us.
Iron pool fencing and gates
If you love spending time in your backyard pool, but its chain link fence feels more prison yard than paradise, consider upgrading to iron fencing. An iron fence keeps your family safe while elevating the look of your backyard oasis. Choose from a variety of finishes and designs, from traditional black wrought iron with straight lines to bright, breezy white with ornamental flair (like the project below).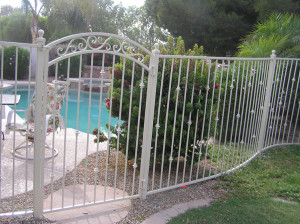 Iron fencing and gates
Installing an iron fence around the perimeter of your property keeps your little ones and pets in, intruders out, and adds beauty and definition to your yard. Simple garden gates invite visitors into your backyard, while a sturdy driveway gate can add security and drama to the entrance of your driveway.
Iron vegetable garden fencing and trellises
Tired of chicken wire and cheap plastic pickets? Iron fencing can beautify your existing vegetable garden beds. Sturdy iron trellises can add permanent function and beauty to the space, too. If you have a veggie green thumb and want to keep critters and pests out, iron garden fencing is for you.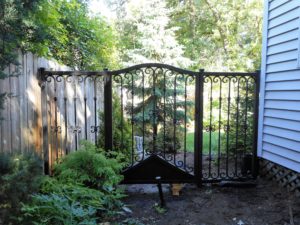 Iron deck and walkway railings
Decks and walkways require secure railings to keep everyone safe. Sturdy, durable iron is the perfect material for deck and walkway railings. Not only are iron railings safer, they're much more attractive than wooden railings that rot over time.
Iron doors
Flimsy screen doors rip, squeak, and get stuck. Iron doors provide extra security and meld beautifully with the design of your home. Live in a midcentury modern rambler? Choose simple lines and feature your house number. What about a Tuscan villa? We can create a design that is as ornate as your home is.
Want to add instant curb appeal without picking up a spade or hauling a bag of mulch? Contact Artistic Ornamental Iron to get started on your iron fencing or door project today.